INOGENI's 4K2USB3 HDMI 4K to USB 3.0 capture card (camera converter) is compact and powered directly from a USB 3.0 port, making it a practical and easy-to-use USB 3.0 capture solution.
Highly stable signal
Advanced video processing for:

USB 3.0 up to 4K
USB 2.0 1080p MJPEG

HDMI audio support
Cost-effective professional camera converter solution that is reliable and simple to install and connect (no driver required)
Compact and robust design with its aluminium enclosure

ClickShare compatible

Zoom Certified (read the blog)
Designed and manufactured in Canada
TAA-compliant
How it works
The 4K2USB3 HDMI 4K to USB 3.0 professional camera converter works with any virtual meeting room software that enables USB cameras and microphones, such as Microsoft Teams, Zoom, Google Meet or BlueJeans.
Requiring no drivers and compatible with Windows, macOS and Linux laptops, the camera converter resolves all interoperability issues.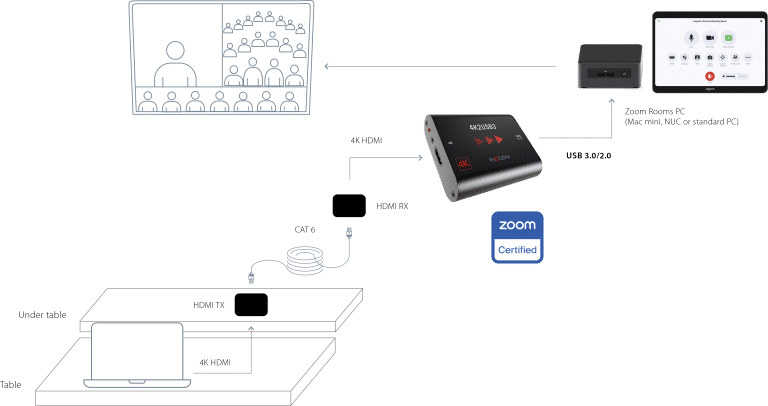 Features
The 4K2USB3 Ultra HD to USB 3.0 camera converter offers an array of features for a smooth and seamless BYOD or BYOM experience:
HDMI capture to USB 3.0
Supports Ultra HD 4K, 1440p, 1080p, 1080i, 720p, 480p, and 576p video formats
Supports 1920×1200, 1280×1024, 1280×960, 1024×768, 800×600, 640×480 graphic formats
Up to Ultra HD 4K (3840/4096×2160) at 30 fps and 1080p at 60 fps
HDMI audio support
Digital Fluid technology: Internal frame buffers maximize frame rate with any PC
Automatic scaling and frame rate conversion (UHD up-scaling not supported)
Device configuration via the  INOGENI Control App
Firmware upgrade available via the  INOGENI Control App
Compatible with Barco ClickShare Conference
Zoom Certified (read the blog)
Compatible with all HDMI cameras
This professional camera converter is fully compatible with all HDMI cameras, including professional-grade equipment such as Vaddio, Aver or Marshall cameras.