The TOGGLE USB 3.0 switcher can be used for a wide variety of applications as well as for Lenovo ThinkSmart videoconference room with Microsoft Teams Rooms (MTR) or Zoom Rooms and Barco ClickShare system.
General BYOM application
Problem: How do you share your USB 3.0 devices between two hosts, such as a room CODEC and BYOD laptop?
Solution: The AV AWARD WINNER TOGGLE USB 3.0 Switcher
The Inogeni TOGGLE Won the "Processing and Distribution Technology of the Year" category at the 2021 AV Awards, London, England.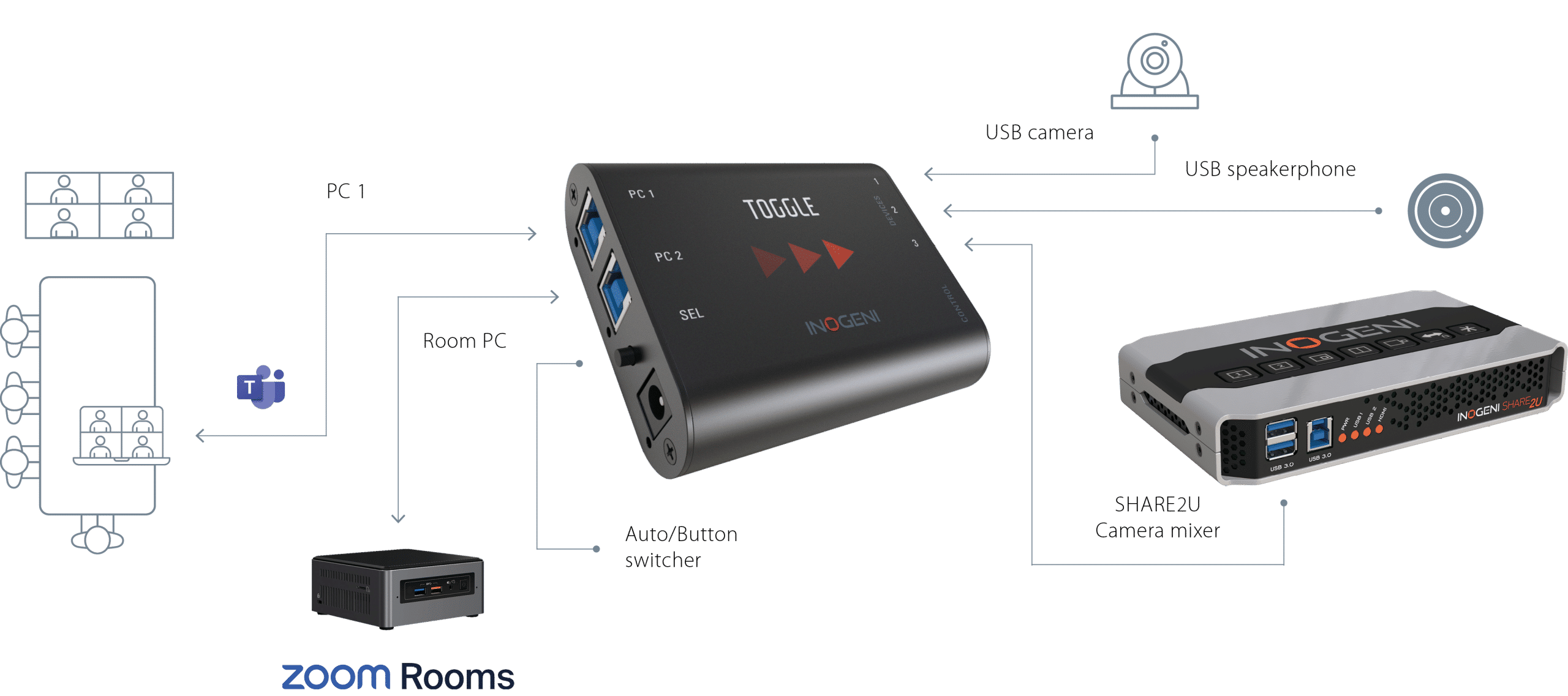 LENOVO + INOGENI partnership for BYOM/BYOD solutions
Microsoft Teams Rooms (MTR) and Zoom Rooms versatility made easy with Lenovo and INOGENI
Together, Lenovo and INOGENI, offer a seamless video conference experience where all attendees are captivated and productive. Lenovo Core Kits make it easy to incorporate smarter collaboration technology into meeting rooms of all sizes, while INOGENI's TOGGLE BYOD USB AV switcher grants anyone in that meeting room access to high-quality USB devices.
This bundle has been tested and developed to meet all technical requirements for Lenovo and US distribution via TD SYNNEX.
Lenovo ThinkSmart Core Full Room Kit
and INOGENI TOGGLE BYOD USB AV Switcher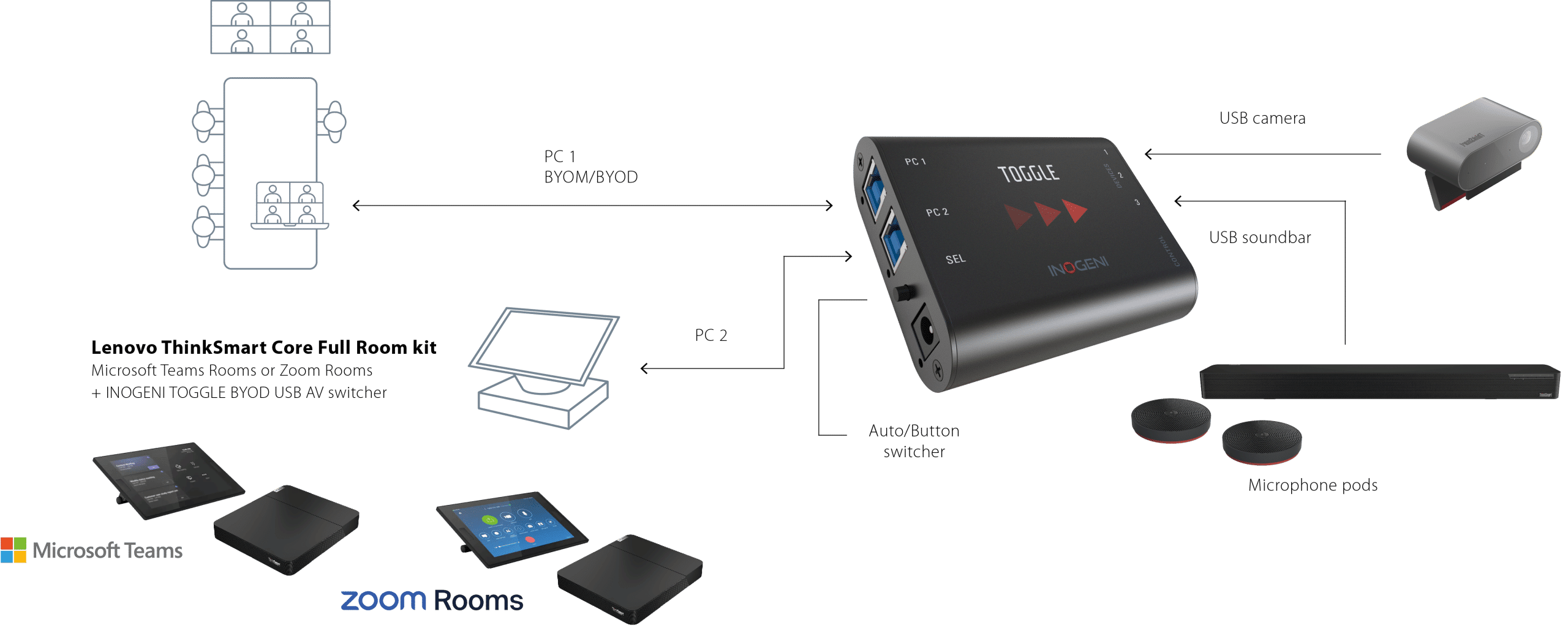 Lenovo ThinkSmart Core + Controller Kit
and INOGENI TOGGLE BYOD USB AV Switcher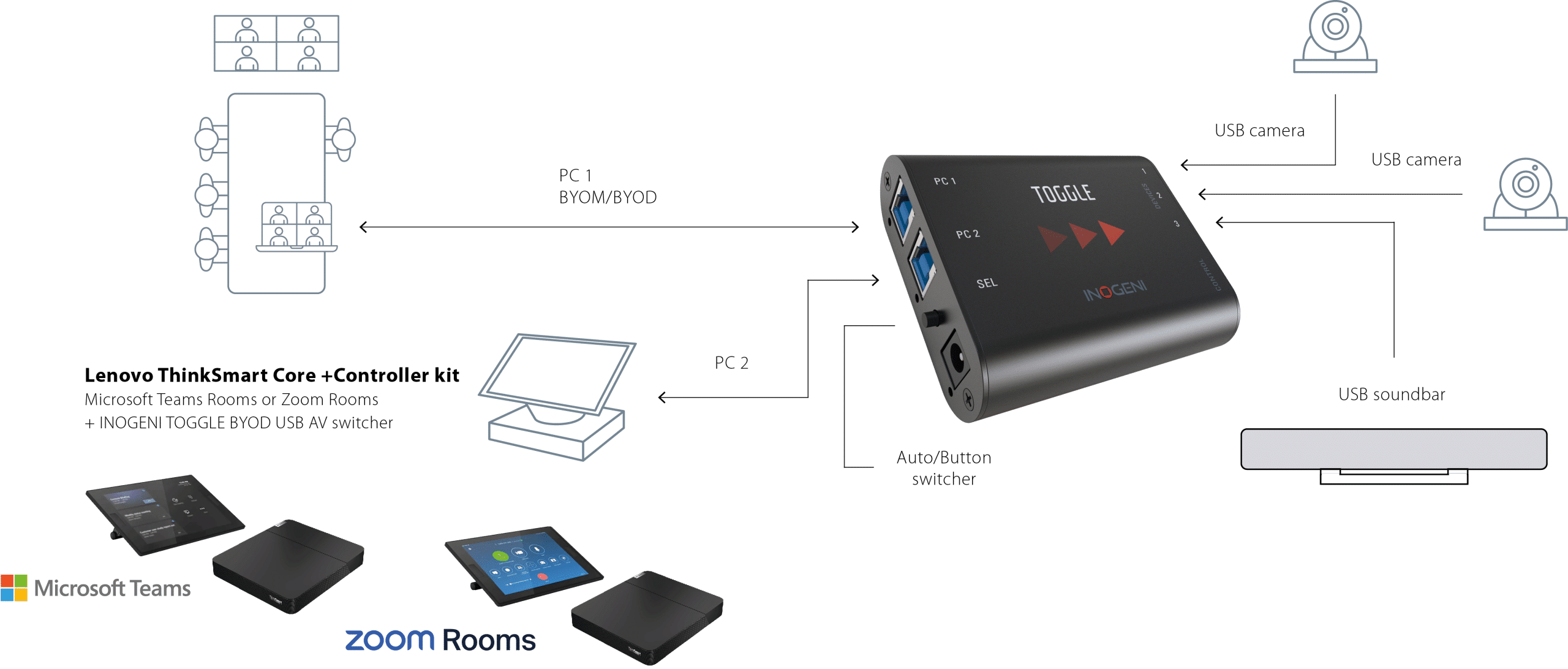 Easily enable BYOM/BYOD
Switch of 3 USB devices with 2 PC hosts
Automatic, manual or remote control
For spaces without A/V installed, choose
ThinkSmartCore Full Room Kits
Built on the familiar Teams Rooms or Zoom Rooms platform
What's included
ThinkSmart Core computing device
ThinkSmart Controller display
ThinkSmart Cam
ThinkSmart Bar XL (Soundbar + 2 Mic pods)
INOGENI TOGGLE BYOD USB AV Switcher
3-year Premier Support
1-year ThinkSmart Deploy & Maintain Service
1-year ThinkSmart Manager Premium
90W AC adapter
---
TD SYNNEX bundle codes
 Lenovo + Microsoft Teams Rooms (MTR)
 Lenovo ThinkSmart Core FRK w/ INOGENI TOGGLE BYOD USB – MTR TD Synnex part # 7134423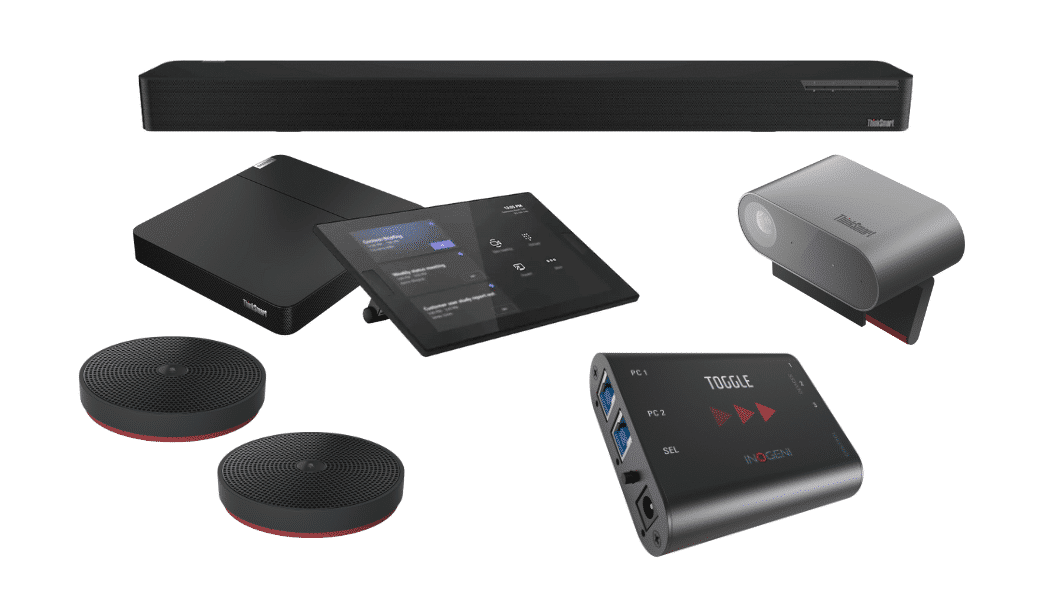 Lenovo + Zoom Rooms
 Lenovo ThinkSmart Core FRK w/ INOGENI TOGGLE BYOD USB – Zoom TD Synnex part # 7134424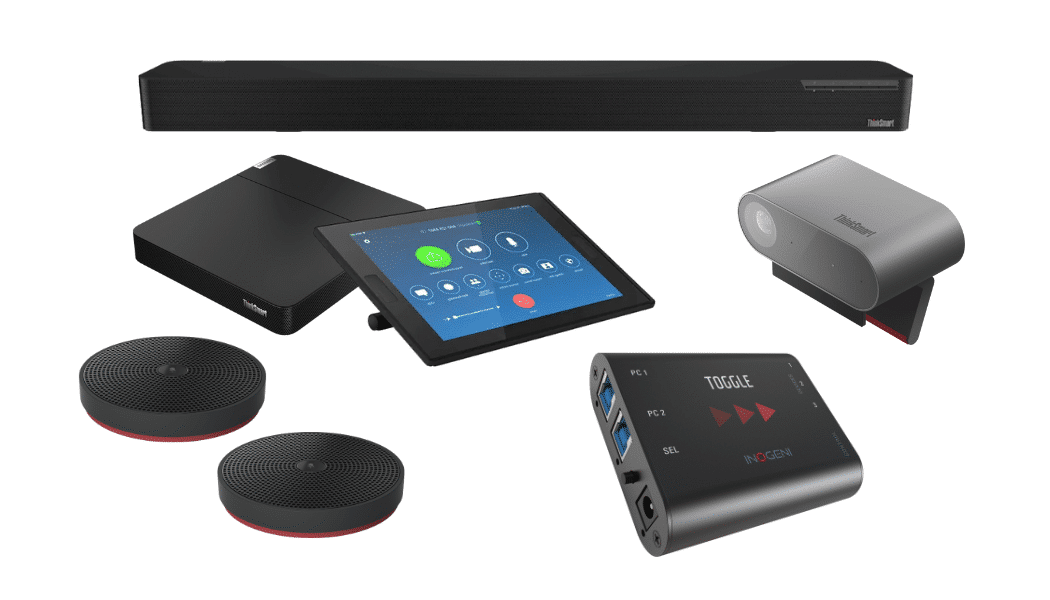 Easily enable BYOM/BYOD
Switch of 3 USB devices with 2 PC hosts
Automatic, manual or remote control
For spaces without A/V installed, choose
ThinkSmartCore Full Room Kits
Built on the familiar Teams Rooms or Zoom Rooms platform
What's included
ThinkSmart Core computing device
ThinkSmart Controller display
INOGENI TOGGLE BYOD USB AV Switcher
3-year Premier Support
1-year ThinkSmart Deploy & Maintain Service
1-year ThinkSmart Manager Premium
90W AC adapter
---
TD SYNNEX bundle codes
Lenovo + Microsoft Teams Rooms (MTR)
 Lenovo ThinkSmart Core + Controller w/ INOGENI TOGGLE BYOD USB – MTR TD Synnex part # 7134425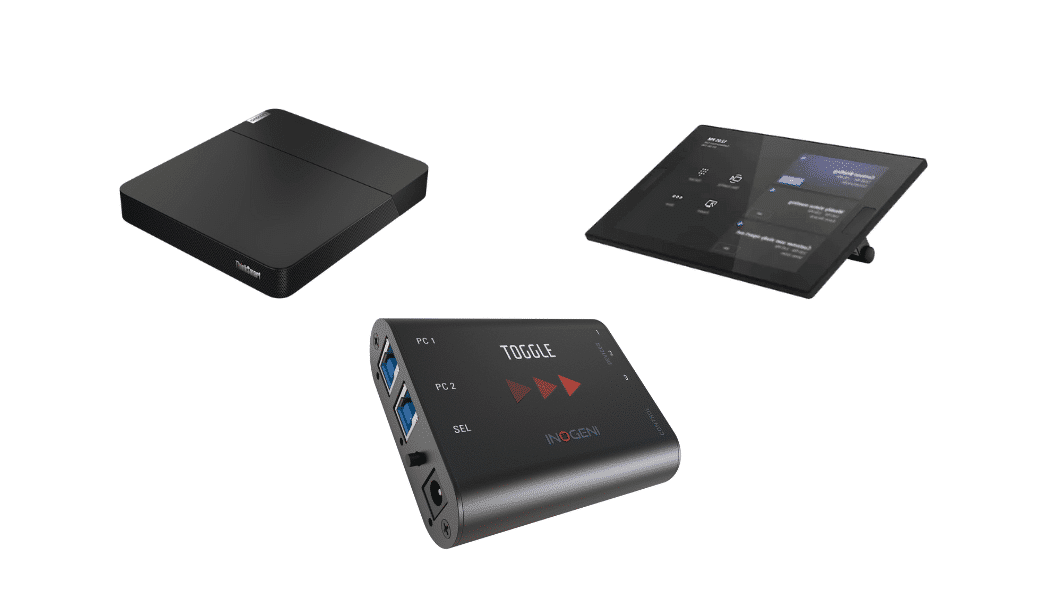 Lenovo + Zoom Rooms
Lenovo ThinkSmart Core + Controller w/ INOGENI TOGGLE BYOD USB – Zoom TD Synnex part # 7134427