The U-BRIDGE USB 2.0 camera or devices extender can be used for a wide variety of applications.
Extend USB 2.0
Up to 100 m/330 ft. over a single CAT 5e/6/7 cable.
INOGENI Devices to PC Host
Camera to PC Host
HDMI camera with INOGENI Devices
Any standard USB 2.0 devices
Extend USB 2.0 INOGENI devices to PC Host
The U-BRIDGE will connect an USB 2.0 Cameras, devices or INOGENI device to any PC or videoconferencing system like Microsoft Teams Rooms (MTR), Zoom Rooms, CODECs or Room PC from videoconference system like Lenovo, Poly, Crestron, Cisco, Logitech, Q-SYS and Barco.
 Extend BYOM to the laptop with the TOGGLE and the U-BRIDGE
Keep all cameras, microphones, INOGENI devices and systems connected on the TOGGLE around the TV wall side and use the U-BRIDGE to extend your USB 2.0 connection to the laptop.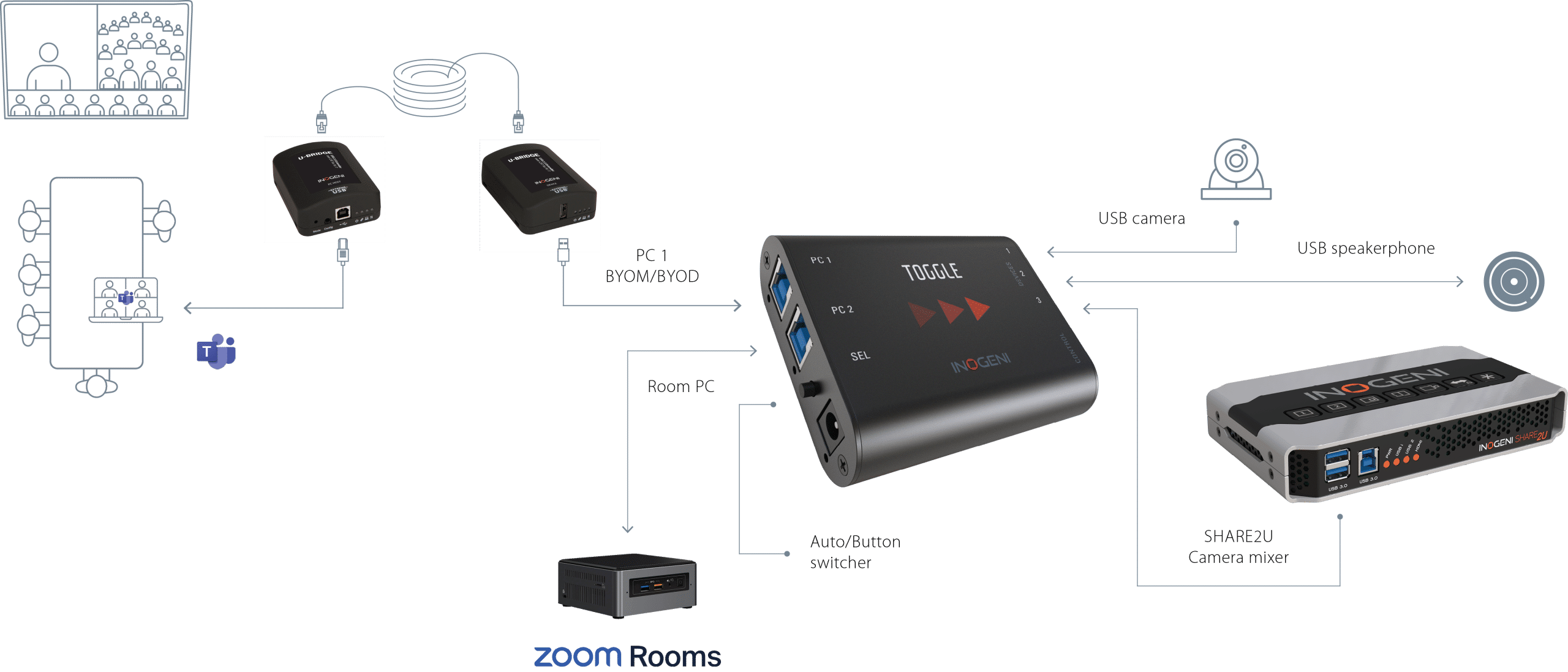 Extend USB 2.0 camera to PC Host
The U-BRIDGE is fully compatible with all USB cameras, including professional-caliber equipment, such as Huddly, HuddleCamHD, AVer, Jabra, Logitech, Marshall cameras, and web cameras.
 See all camera listing that has been tested in INOGENI lab.
Extend USB camera, microphone or any USB 2.0 devices up to 100 m /330 ft. over a single CAT 5e/6/7 cable. The U-BRIDGE USB 2.0 Extender provides plug-and-play convenience, eliminating the need for complex software installations. It effortlessly connects USB devices to the videoconferencing system, ensuring a seamless setup process.
Extend USB 2.0 with any HDMI camera with INOGENI's mixers, switchers and converters
Use an INOGENI converter to extend your HDMI Camera with the U-BRIDGE. By connecting your HDMI camera to any INOGENI' Mixers or converters (HDMI to USB converter), you can effortlessly transmit high-quality video signals in MJPEG format, along with audio, to your computer or PC-based video conferencing setup in any room and this up to 100 m/330 ft. long.
Use an HDMI camera and convert it to USB before the U-BRIDGE with an INOGENI converter:
SHARE2U, SHARE2, CAM300, CAM230, 4KXUSB3, 4K2USB3 and HD2USB3
Extend any USB 2.0 standard device to connect INOGENI switchers, mixers and converters.
The high-quality MJPEG video and audio signals can be extended using the U-BRIDGE.
Extend USB camera and microphone to INOGENI USB devices via U-BRIDGE USB 2.0 extender
This innovative device is particularly well-suited for a wide range of applications, including whiteboard cameras like the Huddly Canvas or the Logitech Scribe, microphones, audio devices, and various other USB devices, such as hard drives, flash drives, and keyboards. Its versatility makes it a perfect choice for industrial control systems, interactive whiteboard setups, and sensor/data acquisition tasks. Moreover, the U-BRIDGE provides seamless keyboard and mouse extensions, allowing users to operate their systems from a distance. Additionally, it supports webcam extensions, enabling enhanced videoconferencing and communication capabilities. With the U-BRIDGE, you can effortlessly extend USB 2.0 connectivity and enjoy reliable and efficient performance across various domains.