The 4KXUSB3 Ultra HD to USB 3.0 professional camera converter with an HDMI loop and VISCA port can be used for a wide variety of applications.
Approved for Zoom Room's hardware, including the preset control over VISCA.
The 4KXUSB3 is detected by ZOOM as a camera device
Control your PTZ camera with Zoom commands via the Visca – RS-232 control
Check them out on Zoom's web site!
Compatible systems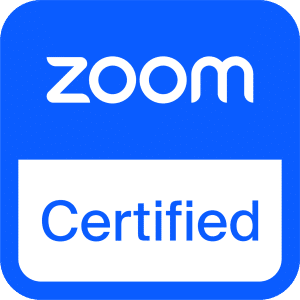 Crestron's

AutoTracker

™

and

AutoFramer

™ are now certified for Zoom Rooms® software with INOGENI

's

4KXUSB3 converter for camera control.

 
Presenter Tracking with AutoTracker™ Cameras: Smoothly follows a presenter as they walk, allowing her/him to move naturally, while also providing a closeup view for remote participants. These cameras are ideal for training rooms, classrooms, and any meeting space with a presentation area.
Group Framing with AutoFramer™ Cameras: Automatically adjust the camera to pan, tilt, and zoom so everyone in the room is perfectly framed. These cameras are ideal for medium-sized conference rooms.
Other advantages of the Crestron Cameras:
Automatic: Uses visual A.I. No manual adjustments required.
High-quality video: Delivers clear visuals with support for resolutions of up to 1080p60.
Flexible Functionality: Optional manual control for standard PTZ camera provides complete video feed control.
Here is the list of the Crestron cameras certified for Zoom Rooms® software with the INOGENI™ 4KXUSB3 converter for camera control.
Crestron AutoTracker™ cameras 
Crestron AutoFramer™ cameras 
For detailed installation procedures and more information about the Crestron cameras, please visit Crestron documentation Web page or Zoom Support web page under ProAV Camera.