INOGENI's SDI2USB3 video converter enables 3GSDI cameras to connect with computers, laptops or CODECs—without glitches or complicated setups.
3GSDI professional video capture to USB 3.0
Highly stable signal
Active loop output connector
Cost-effective professional camera converter solution that is reliable and simple to install and connect (no driver required)
Compact and robust design with its aluminium enclosure
Designed and manufactured in Canada
TAA-compliant
How it works
The SDI2USB3 professional video converter features a 3GSDI input with active loop output and supports SD and HDTV video formats. Compact and powered directly from a USB 3.0 port, the converter is a practical and easy-to-use USB 3.0 capture solution.
UVC-compliant, it works with all DirectShow compatible software. The SDI2USB3 video converter supports 1080p resolution up to 60 fps.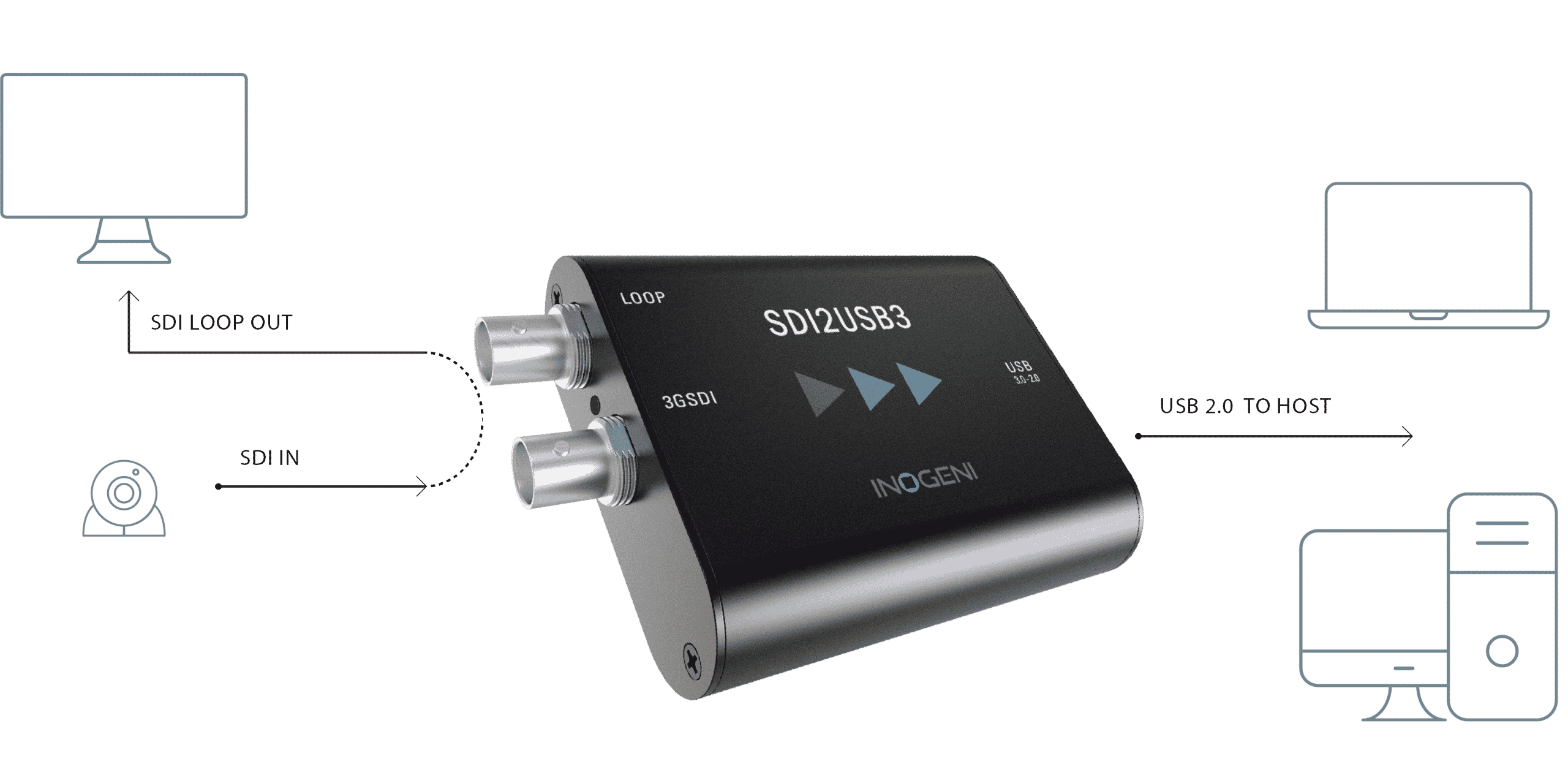 Features
Discover the features of the SDI2USB3 professional video converter that offers a hassle-free user experience:
3GSDI video capture to USB 3.0
Active loop output connector
Supports 1080p, 1080i, 720p, 480p, 576p, NTSC and PAL at up to 60 fps
All SD and HD resolution signals are converted to 4:2:2 8-bit color space over USB 3.0
Embedded audio extraction and output as two-channel LPCM
Digital Fluid technology: Internal frame buffers maximize frame rate with any PC
Hardware-based color space and sampling conversion
Automatic scaling and frame rate conversion
Customizable video processing functions
Supports multiple devices on the same PC
Compatible with Barco ClickShare Conference
Compatible with all SDI cameras
This professional camera converter is fully compatible with all SDI cameras, including professional-grade equipment such as Vaddio, Aver or Marshall cameras.