The VGA2USB3 is discontinued. You will find more product information here or in the support section.
INOGENI's VGA2USB3 video converter easily captures uncompressed video with audio from your VGA, Component (analog) or CVBS output into your PC for recording, editing, videoconferencing and streaming. The INOGENI VGA2USB3 converter accepts SD and HDTV video formats up to 1200p60 and most computer graphic formats.
VGA capture video into a single USB 3.0 interface
Easy and versatile for countless applications
Cost-effective professional camera converter solution that is reliable and simple to install and connect (no driver required)
Compact and robust design with its aluminium enclosure
Designed and manufactured in Canada
TAA-compliant
How it works
The VGA2USB3 professional video converter enables that all SD and HD resolution signals are converted to 4:2:2 8-bit color space over USB 3.0. The line level stereo analog audio input is output as two-channel LPCM.
UVC-compliant, it will work with all DirectShow compatible software. The VGA2USB3 supports 1200p resolution up to 60 fps.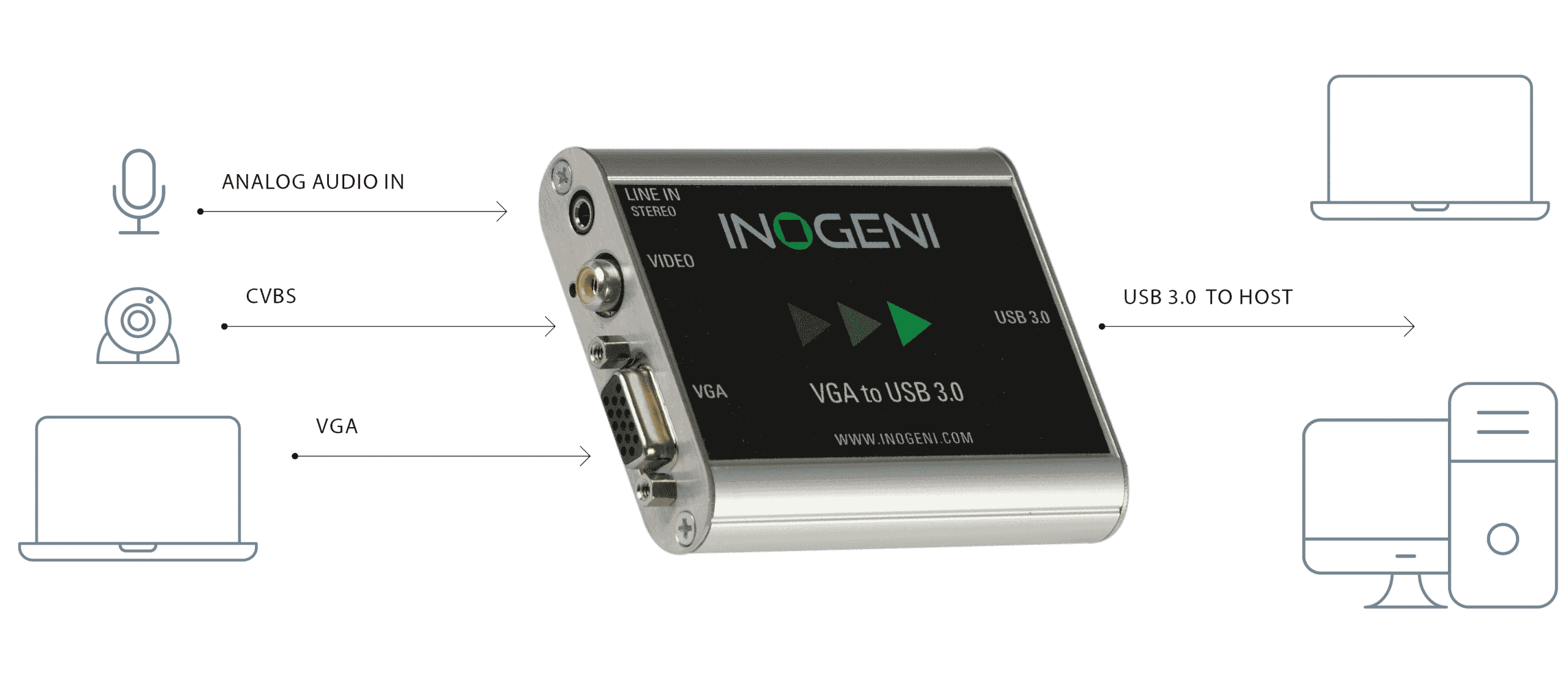 Features
Discover the features of the VGA2USB3 video converter for any type of application:
VGA/Component/CVBS and audio capture to USB3.0
Supports 1080p, 720p, 480p, 576p, 1600×1200, 1920×1200, 1280×1024, 1280×960, 1024×768, 800×600, 640×480, NTSC, PAL and more at up to 60 fps
Digital Fluid technology: Internal frame buffers maximize frame rate with any PC
Hardware-based color space and sampling conversion
Automatic scaling and frame rate conversion
Customizable video processing functions
Image controls: Brightness, contrast, saturation and hue settings
Supports multiple devices on the same PC
Compatible cameras
This professional camera converter is fully compatible with all VGA cameras, including professional-grade equipment and document cameras such as Epson, AVer and Elmo.